By Daniel Tilles
The proportion of Catholics in Poland attending mass has fallen from 37% to 28% in two years, according to the new figures published by the church's statistical institute.
The church notes that the latest data – which come from 2021 – are likely to have been affected by the pandemic. But it also admits that "socio-cultural factors" have played a part in the decline.
While the vast majority of Poles are officially identified as Catholic, recent years have seen the status of the church dented by its support for an unpopular near-total ban on abortion and by revelations of child sex abuse by members of the clergy and negligence by bishops in dealing with the issue.
Since 1980, the Catholic church in Poland has conducted an annual study of how many people attend mass and take communion. On one Sunday each year, every parish in the country records figures and submits them to the Institute for Catholic Church Statistics (ISKK).
The ISKK then calculates nationally what proportion of Catholics required to attend mass – meaning people aged over seven and excluding the bedridden and elderly with limited mobility – actually did so on that day.
The latest figures show that 28.3% attended mass in 2021, which was down from 36.9% in 2019 (the survey was not conducted in 2020 due to the pandemic). In 2011, the number stood at 40%; in 2001 at 46.8%; in 1991 at 47.6%; and in 1981 at 52.7%.
Meanwhile, the proportion who took communion fell to 12.9% in 2021, having stood at 16.7% in 2019. In contrast to attendance figures, those taking communion had previously been rising: from 8.1% in 1981 to 10.8% in 1991, 16.5% in 2001 and 16.1% in 2011.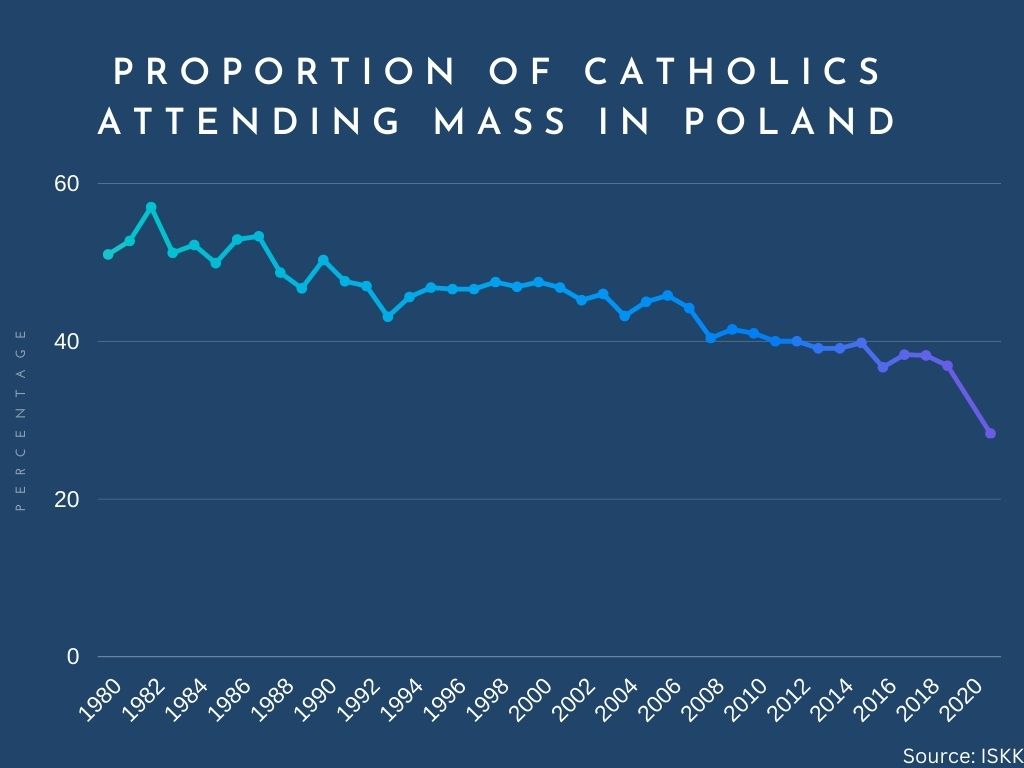 "The [2021] numbers were influenced by the pandemic situation," notes ISKK's deputy director Marcin Jewdokimow. "It should be remembered that in 2020, due to COVID-19 restrictions, no data were collected. In 2021, we collected data despite the fact that some restrictions were [still] in force.
The latest data were gathered on 26 September 2021, at a time when entry to churches was restricted to 50% capacity and attendees were obliged to wear masks.
"In previous years, the declines in the dominicantes [mass attendance] index were constant," added Jewdokimow, quoted by the Polish Press Agency (PAP). "This time we're dealing with a collapse. Therefore, I believe that next year we will have a rebound, the statistics will show an increase."
At the same time, Jewdokimow admitted that "socio-cultural factors" had also had an impact on church attendance. But he noted that the ISKK does not conduct research into the reasons behind changes in the numbers it records.
"In the long term, we are dealing with processes of socio-cultural changes," said Jewdokimow. "On the other hand, there is a certain reconfiguration of Catholicism and the place of religion in public space. People's religious needs are changing and the way religious institutions function is changing."
Other research has also indicated a decline in religious practice over recent years. Polling by CBOS, a state research agency, found that in August 2021 43% of Poles said they practice their religion at least once a week, down from 69.5% in 1992. However, 87% still declared themselves to be believers.
Among those aged 18-24, religious practice fell from 69% in 1992 to just 23% in 2021. Young Poles have been particularly prominent in protests against the church. An IBRiS poll in 2020 found that just 9% of those aged 18-29 held a positive view of the church.
Complete Article ↪HERE↩!