— New Orleans archdiocese ignored woman's claims before priest's abrupt dismissal
Anthony Odiong – who gave anti-LGBTQ+ sermons – had detailed allegations abuse filed against him before his removal
A Louisiana Catholic priest's sudden dismissal from the church where he had been a popular pastor for the last several years has set off a fresh scandal in the embattled New Orleans archdiocese, the second-oldest in the US.
As they tell it, local church leaders rescinded Anthony Odiong's invitation to serve as a cleric in the region due to unspecified "concerns … about [his] ministry prior" to his arrival in the archdiocese – "and quite possibly during his time" there. As a result, the New Orleans archbishop, Gregory Aymond, told Odiong's bishop in Nigeria to recall him to his home diocese "as soon as possible to address these concerns", officials said in a statement.
The statement did not mention whether those concerns stemmed from Aymond's receipt in 2019 of a detailed complaint against Odiong of years-long sexual and financial abuse from a woman who viewed the clergyman as her spiritual adviser – and who says the church brushed her off.
"These concerns do not include the abuse of minors nor to our knowledge involve anyone in this [church]," is all the archdiocese's statement said.
The statement added that the archdiocese had reported Odiong to law enforcement authorities, and the organization had ordered him to soon leave the rectory where he had been residing.
Meanwhile, Odiong has offered up a starkly different counter-narrative. He has publicly suggested that Aymond booted him out from serving the archdiocese with about a half-million Catholics after likening members of the LGBTQ+ community to "monkeys and animals and chimpanzees" in a recent sermon that warned of a purported liberal takeover of the church.
The archdiocese's statement did not deny that it found Odiong's remarks to be problematic. And it suggested that the comments may have expedited a departure originally scheduled for January.
"Unfortunately," the statement said, "[Father] Anthony's words and actions since being informed of this decision have led to us taking action to relieve him as pastor now."
Whatever the case, the circumstances of Odiong's departure from the St Anthony of Padua church highlight the layered predicament Aymond and his archdiocese find themselves in.
The archdiocese has racked up nearly $34m in legal and other professional services fees since filing for federal bankruptcy protection in 2020 in the face of a mountain of local clergy abuse litigation. To cope with the bankruptcy court expenses, the church recently announced a plan to close several of its churches.
St Anthony of Padua was not one of the churches affected by the downsizing. Yet Odiong's dismissal has stirred unrest among his parishioners and their community of Luling, Louisiana, whose population of about 14,500 people resides about 25 miles (40km) south-west of New Orleans.
Masses held by Odiong in which parishioners came to be healed both physically and spiritually proved to be particularly popular and helped attendance for weekend services surge from fewer than 390 to more than 500, according to reporting in the local St Charles Herald Guide newspaper.
Odiong and at least some in his former congregation now feel as though they have been thrust into the split brewing between those who support and those who oppose Pope Francis's attempts to make the Catholic church more welcoming to the LGBTQ+ community, a prominent agenda item during a recent synod of bishops at the Vatican.
Francis in November dismissed Joseph Strickland, at that time the bishop of Tyler, Texas, for his criticism of the pope's goals to be more inclusive of LGBTQ+ people and to give the laity more responsibilities within a church that does not allow gay marriage.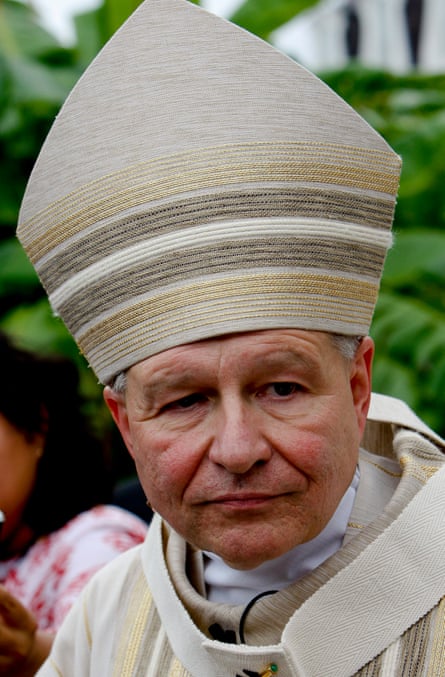 The outpouring of support for Odiong from some of his followers has generally echoed the support among conservative circles that met Strickland after his ouster.
"You have your flock's unwavering love," read one of numerous recent Facebook posts from Luling residents. Another read: "I [shudder] to think what my spiritual life would be like without his guidance … My friends and I stand WITH [Father] Anthony Odiong, NOT against him."
However, what the controversy surrounding Odiong's departure also seems to highlight is how few – if any – of his most fervent believers realized that he stands among more than 300 clergymen, religious personnel or lay church employees who are accused of abusing vulnerable parishioners – mostly children but also adults – in claims filed as part of the archdiocese's pending bankruptcy.
Most of the records associated with the bankruptcy are under a court seal. But the Guardian managed to obtain a copy of the claim against Odiong, which was prepared by his accuser's attorney, Kristi Schubert.
A review of the document – filed under oath – raises questions about whether Aymond could have acted against Odiong long before his abrupt dismissal and the anti-LGBTQ+ remarks that he insisted cost him his position.
When asked about his response to the accusations in the bankruptcy, Odiong said: "We have discussed the allegations, and I have a lawyer taking care of that."
He said he could not elaborate but maintained that Aymond had rescinded his invitation for Odiong to minister in the New Orleans archdiocese because the Nigerian "went against the pope and the synod".
Schubert, who represents numerous clergy abuse survivors, said: "I am not surprised at all that it took a public scandal for [Father] Odiong to finally see even minimal consequences. In my experience, credible abuse allegations alone have not been enough to motivate the church to remove a priest."
'Dismissed my claim'
Odiong underwent his clerical training in Nigeria and was ordained in 1993, according to his biography on the St Anthony of Padua webpage. For more than a decade, he served in Nigeria.
But the country has historically been convulsed by sectarian violence against Catholics. In 2006, Odiong moved to Austin, the capital of Texas, to minister there on the invitation of the city's bishop at the time: Aymond.
Odiong later worked in campus ministry at Baylor University in Waco, Texas. He obtained a master's degree in theology from Franciscan University in Steubenville, Ohio.
Meanwhile, Aymond became New Orleans's archbishop in 2009. In about 2016, Aymond invited Odiong to serve as the pastor of St Anthony.
Odiong's healing masses helped improve church attendance. Their popularity led to the construction of a new healing chapel dedicated to the Virgin Mary, which opened in 2020.
He took parishioners with him to Medjugorje, the site in Bosnia which has attracted a million pilgrims annually since 1981, when six children and teenagers there said they had witnessed the appearance of the Virgin.
But the year before the healing chapel at St Anthony opened, a woman who described meeting Odiong at Franciscan University in 2007 contacted the archdiocese of New Orleans with detailed abuse accusations against Odiong.
The abuse claim that the woman later filed in bankruptcy court described how Odiong positioned himself to be her spiritual director.
"From May 2007 until December 2018, Father Odiong and I spoke daily," said the woman, who recalled being 37 when she met the clergyman. As her personal spiritual adviser, she said Odiong "came to control nearly every aspect of my life, including my financial and relationship decisions".
Among numerous other alleged misdeeds, she accused Odiong of forcing her to perform sexual acts – including oral intercourse – with him during the sacrament of confession, at private masses in her home and in at least one motel room. She described the acts occurring in New Orleans, in west Texas, in Pennsylvania and in Alabama, in her car while stopped in a church parking lot – despite the vow of celibacy that Catholic clergyman make.
The woman said Odiong told her she would earn forgiveness for her sins through her sexual service. She accused him of threatening to "place a curse on her head" if she ever refused, of insinuating that she was mentally ill by calling her a "troubled woman", and of stealing money, including thousands of dollars from her.
At one point, needing the floors of her home redone, she alleged that Odiong forced her to hire a man who she learned was "a rapist". Her floors did not end up getting redone, and she was drawn into a legal dispute that cost her nearly $50,000, she said.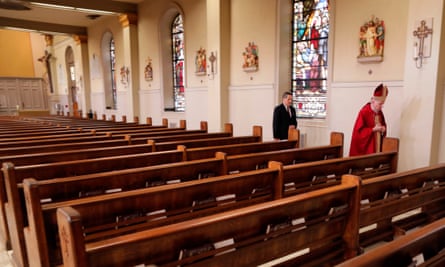 The woman said she mostly stopped engaging with Odiong in late 2018. That was weeks after Aymond had released the first version of a list naming several New Orleans Catholic clergymen whom the church considered to be credibly accused of molesting children or vulnerable adult parishioners, igniting a wave of additional claims of church molestation that eventually thrust the archdiocese into bankruptcy.
Odiong was not on the list, which was one piece of the broad fallout from a 2018 Pennsylvania grand jury report that found Catholic clerical sex abuse in that state was much more widely spread than the church had acknowledged.
And in early 2019, the woman – whose home is in Pennsylvania – contacted a religious brother serving as the New Orleans archdiocese's point of contact for abuse claimants, and reported Odiong.
She said the archdiocese's victims assistance coordinator told her: "I do not think you are remembering things correctly." Then, toward the middle of July that year, she said, she reported Odiong directly to Aymond.
The woman said she sought to boost her credibility by saying she had ghostwritten some of the letters Odiong sent to Aymond over the years, including ones that successfully asked for financial assistance to complete his education while also requesting an invitation to work in New Orleans.
Nonetheless, "I felt like he dismissed my claim as well," the woman said of Aymond.
The woman cited copies of text messages and phone call logs to establish the volume of contact that she had with Odiong and to support her assertion that she had conversed with Aymond. She captured telephone recordings that showed she contacted detectives in Luling and her Pennsylvania home town about Odiong, though it is unclear if those agencies pursued investigations.
After the woman reported him to the archdiocese, Odiong wrote to her saying that the victims assistance coordinator had contacted him, according to an email her lawyer provided. It is unclear what else the archdiocese may have done in response to her claims.
Information produced during the bankruptcy's discovery process and reported on by the Guardian has established that the archdiocese over the last several decades has gone to extreme lengths to shield abusive clergymen – including the handful of ones convicted of or charged with crimes by subpoena-wielding authorities despite the church's protection.
Odiong did serve as the pastor of St Anthony of Padua through most of 2023, presiding over weddings, baptisms, weekly masses and services at the healing chapel.
As recently as August, Odiong, Aymond and a third clergyman hosted a three-day series of masses at a church in the New Orleans suburb of Metairie. Odiong presided over a healing service following the mass, according to an archdiocesan bulletin.
Odiong's removal
It was not until a Saturday service on 18 November at St Anthony of Padua that Odiong informed his congregation that their time together was coming to an end. He said his plan was to move by January to Florida, where he intended to build a chapel like one whose construction he was overseeing in Texas.
At Sunday mass on 26 November, he elaborated with remarks that took aim at the LGBTQ+ community.
"The church is dividing already," Odiong said during his homily that day, according to a video available on YouTube. "Now the gays have taken over the church. The LGBTQI – whatever you call them – have a stranglehold on the church now. We're going to begin to bless all kinds of monkeys and animals and chimpanzees, and priests who will not do it will be persecuted."
Odiong went on to suggest that he was "not safe" because of his beliefs on that topic. "Yet, I'm not afraid – I'm excited," he said. "I like a good fight."
As Odiong tells it, Aymond told him that he had until the next several days to move out of St Anthony of Padua's rectory. The archbishop had rescinded Odiong's invitation to minister in the New Orleans archdiocese, the ousted clergyman said.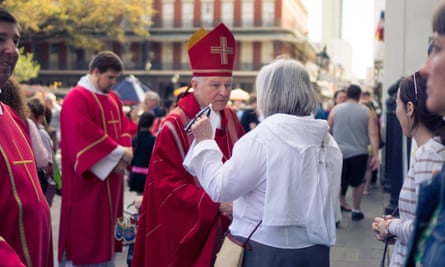 Before St Anthony's Sunday mass on 3 December, the church announced it would not livestream video of the service as usual.
At mass, the archdiocese said, parishioners were read a statement telling them that Odiong's removal was being expedited over various but unspecified concerns. The archdiocese's statement asked Odiong's congregation to respect his privacy and keep him in their prayers "during this time of transition".
The statement triggered a wave of Facebook comments in support of Odiong. One accused the archdiocese of having "besmirched a holy man's character to his congregation" with no substantial specifics.
The woman who has accused Odiong of abuse is demanding damages from the archdiocese's bankruptcy case, which remains unresolved. She argues that she lost at least $150,000 in wages after her mental anguish over Odiong's alleged domination interrupted her ability to work as a licensed clinical social worker.
The woman's lawyer, Schubert, said it was disturbing but unsurprising that the archdiocese "allowed Odiong to continue to hold a position of trust and authority" for years despite her client's complaint.
Schubert said her client's case was only the latest to illustrate how "abuse allegations will typically be ignored or covered up as long as possible" by institutions like the archdiocese.
"The only thing I've really ever seen the church respond to quickly is the fear of bad publicity," Schubert added. "They don't fix things that are bad. They fix things that make them look bad."
As for Odiong, he said he plans to continue in ministry as long as he has the permission of his supervising bishop in the diocese of Uyo, Nigeria.
"You have to let this play out," Odiong said. "This is just the beginning."
Complete Article ↪HERE↩!