— Navigating faith as a gay man
By Liz Clements
"I spent a great deal of my time in the shadows, hiding. That is not a happy existence for anyone."
Dr Numair Masud from Cardiff used to practise Islam but left his faith as he felt he could not express his sexuality but instead had to hide it.
But for David Williamson and Matthew Dicken, from Cwmbran their experience couldn't be more different – they are looking forward to receiving a church blessing when they get married in May.
"Being same sex attracted and being a Christian are not mutually exclusive. They can co-exist," according to David.
During LGBT+ History Month three gay men share their views on their respective faiths – a relationship that is historically complicated with views varying from person to person in diverse religions across the world.
'You can be persecuted by law'
Raised in a Muslim family in Pakistan, Dr Masud found it "impossible" to express his sexuality there.
"It was an upbringing of repression and oppression," said the 32-year-old.
"By virtue of being in love with the same sex, you can be persecuted by law. There was fear because you don't want the truth to come out because it can harm you."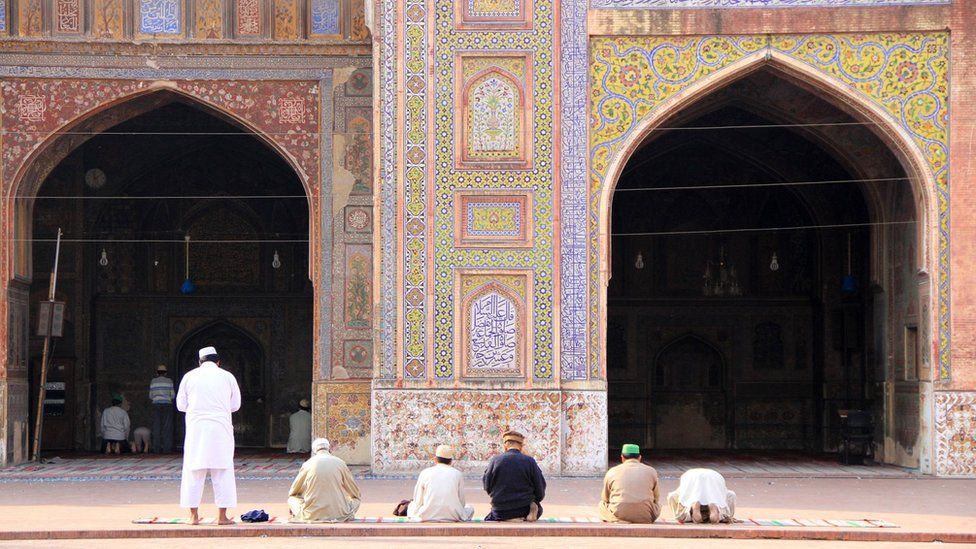 In Pakistan homosexuality is illegal and punishable by possible life imprisonment.
Numair moved to the UK to start a degree in zoology in Bristol and then moved to Cardiff to study for his PhD.
Navigating his identity as a gay man he became critical of his relationship with Islam and decided to leave the faith.
When he fell in love with another man, Numair realised he could not and would not return to Pakistan.
In 2017 he claimed and was granted asylum in the UK and now lives in Cardiff working as a research scientist at Cardiff University.
"Perhaps the most important freedom of all that I discovered, was the freedom to be able to help others through learning from my own trials and tribulations, to be able to help others discover their own voice", he said.
Numair is now an LGBTQ+ activist, helping others who struggle to reconcile their sexuality and religion.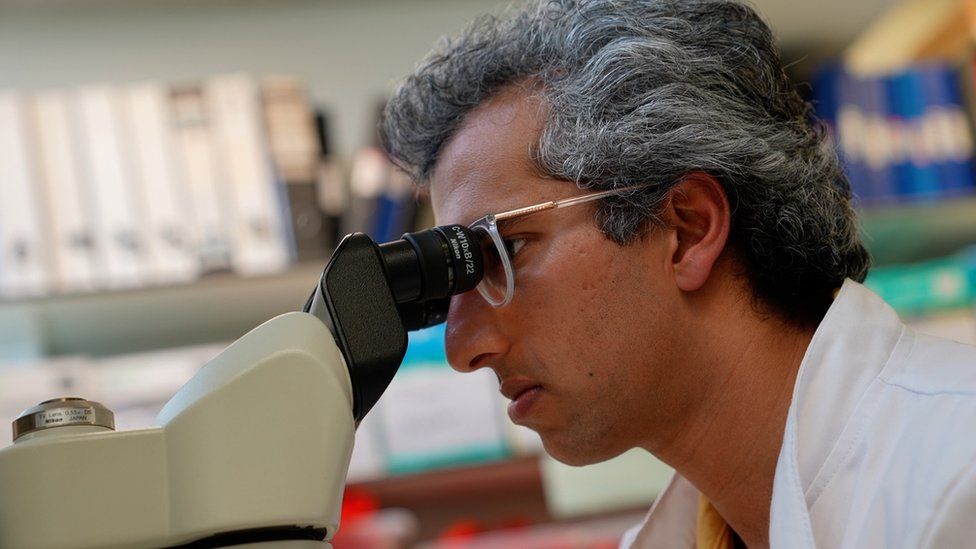 He worries that there is a danger when faith informs potentially harmful views.
"You have a right to believe in what you want, but the moment your belief when acted upon harms me or anyone else or any other community, that is unacceptable", he said.
He acknowledges his experiences are personal and there are LGBTQ+ Muslims who are able to continue practising their faith.
While some attitudes are changing towards LGBTQ+ people in Muslim communities he personally was unable to do this.
"It feels bittersweet, because I've had to give up a lot in my life to be where I am today. Saying goodbye to the people you love is not easy," he reflects.
"The sweet element, the sense of joy comes from realising that I have the freedom to be myself and find love, to love and be loved without too much judgement here in Wales… I'm so thankful and grateful for that."
While Numair struggled, for David and Matthew, their religion is at the heart of their relationship.
'Celebrate our love'
In just under three months, Matthew, 34 and David, 46 will tie the knot in Cardiff's City Hall.
But what the couple, who are members of the Church in Wales, are most excited for is a blessing at Llandaff Cathedral, Cardiff.
It will be the first blessing of its kind at the 12th Century cathedral.
"People have worshipped on this site for over 1,000 years, so there's something special about that and to be able to celebrate our love there," headteacher Matthew said.
The couple who live in Cwmbran have been together for two years but met years earlier.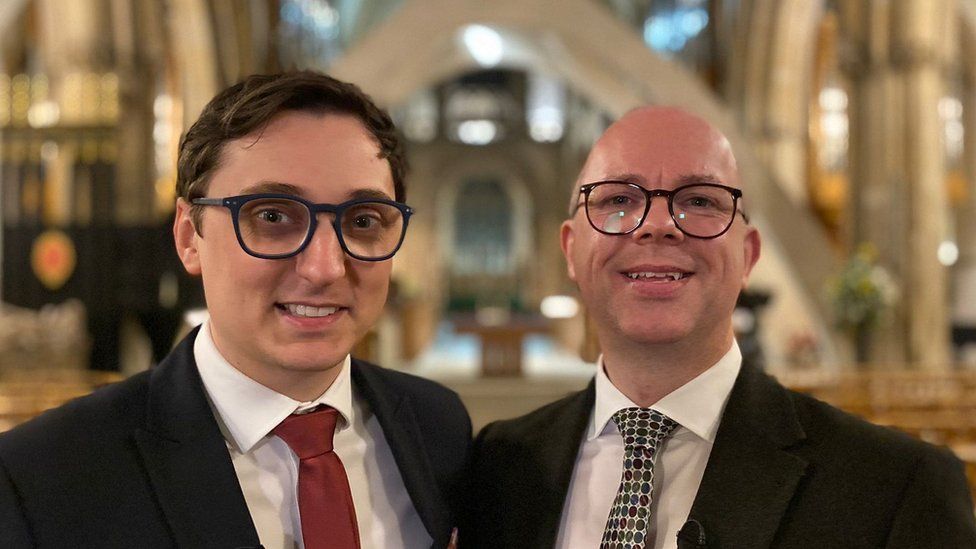 Matthew and David's individual journeys with sexuality have been different and complicated at times.
"Growing up, I always knew I was same-sex attracted but that was something to keep hidden or not talk about," said David, who now works as executive assistant to the Bishop of Llandaff.
"It took me until my 30s to accept that for myself, and then a journey to actually see I'm still a person of faith, and my relationship with God is fundamentally intrinsic to who I am," he added.
"I'd love to be able to say that everyone's accepting but that's not my full experience," said Matt.
'Difficult conversations'
"People have quoted little bits of scripture from out of context and that has happened to us.
"We're not going to pretend it's easy, but our understanding is based on the fundamental thing of love," he said.
"Being same sex attracted and being a Christian are not mutually exclusive. They can co-exist," David added.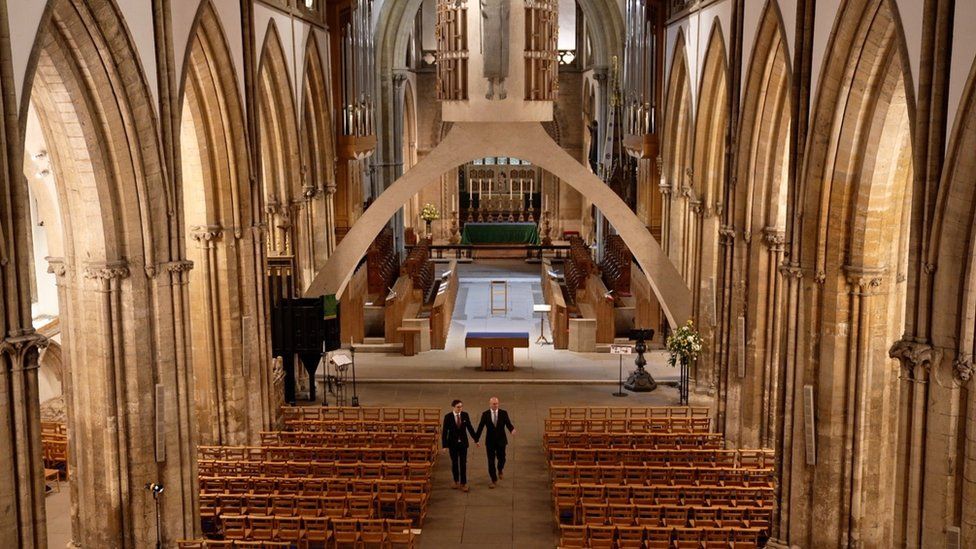 The couple said there are "ways to conduct debate carefully", and despite difficult conversations or upsetting remarks, they believe things are progressing.
"I think the Church in Wales are really trying to be inclusive, and that's so important. Communities of faith are on their own journey as well," Matt said.
"It's difficult to try and forge a way forward and accepting and blessing something that's different from what has been, for however many centuries."
'Celebrate love in all its variety'
In September 2021, the Church in Wales' governing body voted in favour of offering blessings to gay marriages or civil partnerships. In theological terms, a blessing is God's approval.
The first same-sex blessing was in November that year.
The blessing is currently being used experimentally for five years, but individual clergy can decide whether to bless partnerships.
Earlier this month, the Church of England backed proposals to allow same-sex blessings there, as is already granted in Wales, but the topic proved divisive.
An amendment to force a vote on changing the Church's teaching and allowing gay couples to marry in Church was rejected during the eight-hour debate in the Church of England's national assembly.
In Wales the law prohibits same-sex marriages by the Church in Wales.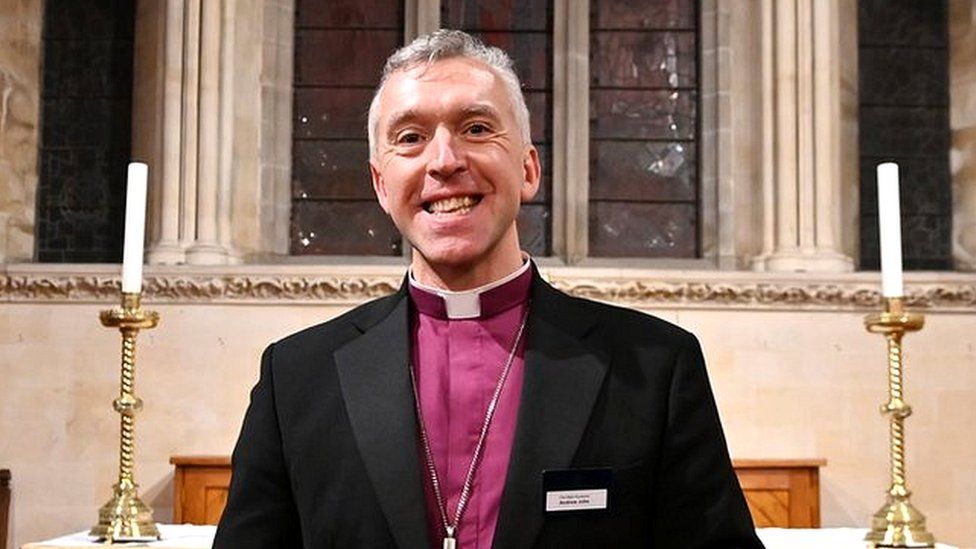 In 2021, the Archbishop of Wales, The Most Rev Andrew John said same-sex weddings could be held in churches in Wales in five years and should "welcome people, where they are, who they are".
Matthew agrees changing the rules on same-sex marriage in churches in Wales could mean inclusion for more people.
"It needs to move forward I believe to be more accepting and to celebrate love in all its variety. I think there is a sense of urgency, because you lose people, not only to a church building or congregation, you lose people to faith," he said.
For now though, both Matthew and David cannot wait for their special day.
"To celebrate our love for each other and our love for God and wanting to seek God's blessing on our relationship and to be able to do that publicly in a place of worship is just more than we ever thought would be possible."
Complete Article ↪HERE↩!