— Pope Francis and the leaders of Protestant churches in England and Scotland have denounced the criminalisation of homosexuality.
Speaking to reporters after visiting South Sudan, the Pope said such laws were a sin and "an injustice".
He added people with "homosexual tendencies" are children of God and should be welcomed by their churches.
His comments were backed by the Archbishop of Canterbury and the Moderator of the Church of Scotland.
Archbishop Justin Welby and Iain Greenshields, Moderator of the General Assembly of the Church of Scotland, travelled with the Pope to South Sudan where they jointly called for peace in the war-torn country.
It is the first time the leaders of the three traditions have come together for such a journey in 500 years.
Archbishop Welby and Dr Greenshields praised the Pope's comments during a news conference with reporters on board the papal plane as they travelled from Juba to Rome.
"I entirely agree with every word he said there," said Archbishop Welby, noting that the Anglican church had its own internal divisions over gay rights.
Last month the Church of England said it would refuse to allow same-sex couples to be married in its churches.
Expressing his own support, Dr Greenshields referred to the Bible, saying: "There is nowhere in the four Gospels that I see anything other than Jesus expressing love to whoever he meets, and as Christians that is the only expression that we can give to any human being in any circumstance".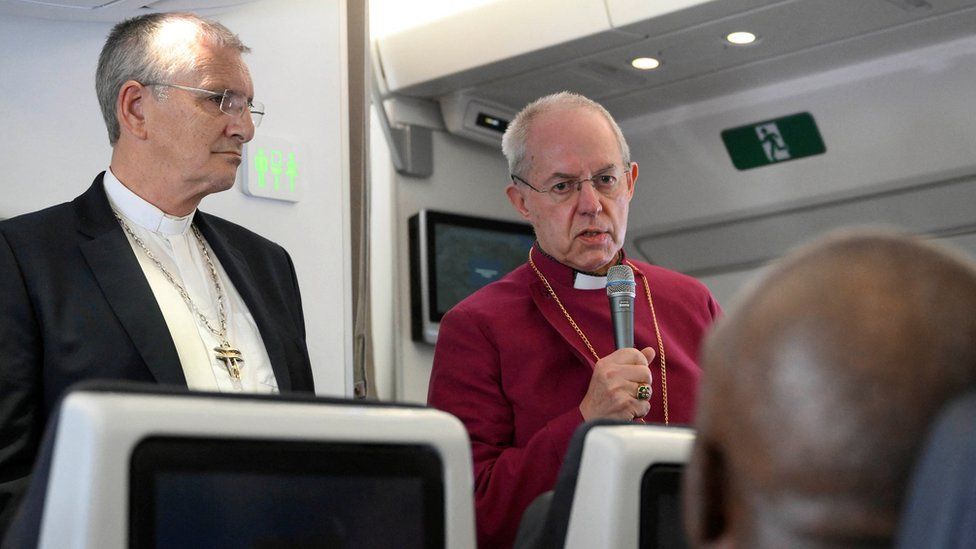 During the news conference Pope Francis repeated his view that the Catholic Church cannot permit sacramental marriage of same-sex couples.
But he said he supported so-called civil union legislation, and stressed that laws banning homosexuality were "a problem that cannot be ignored".
He suggested that 50 countries criminalise LGBT people "in one way or another", and about 10 have laws carrying the death penalty.
Currently 66 UN member states criminalise consensual same-sex relations, according to ILGA World – the International Lesbian, Gay, Bisexual, Trans and Intersex Association.
"This is not right. Persons with homosexual tendencies are children of God," said the Pope.
"God loves them. God accompanies them… condemning a person like this is a sin."
Under current Catholic doctrine, gay relationships are referred to as "deviant behaviour" and Pope Francis has previously said he was "worried" about the "serious matter" of homosexuality in the clergy.
But some conservative Catholics have criticised him for making comments they say are ambiguous about sexual morality.
In 2013, soon after becoming Pope, he reaffirmed the Catholic Church's position that homosexual acts were sinful, but added that homosexual orientation was not.
Five years later, during a visit to Ireland, Pope Francis stressed that parents could not disown their LGBT children and had to keep them in a loving family.
Complete Article ↪HERE↩!