Nearly two decades after The Boston Globe's Spotlight team started publishing their investigation into child sexual abuse in the Boston area's Catholic Church, similar stories are coming to light. A 2021 report, for example, estimated that sexual abuse cases in the Catholic Church in France over the prior seven decades had affected more than 200,000 minors, according to The New York Times.
And Procession, a Netflix documentary now streaming, covers six cases in the United States. In the documentary, six Midwestern men, all of whom survived sexual assault by Catholic priests and clergy, "come together to direct a drama therapy-inspired experiment designed to collectively work through their trauma," Netflix explains in a synopsis. With decades of trauma resurfacing in Procession and elsewhere in the media, here are updates on two high-profile Catholic figures accused of abuse.
A former cardinal was charged with sexual abuse in July 2021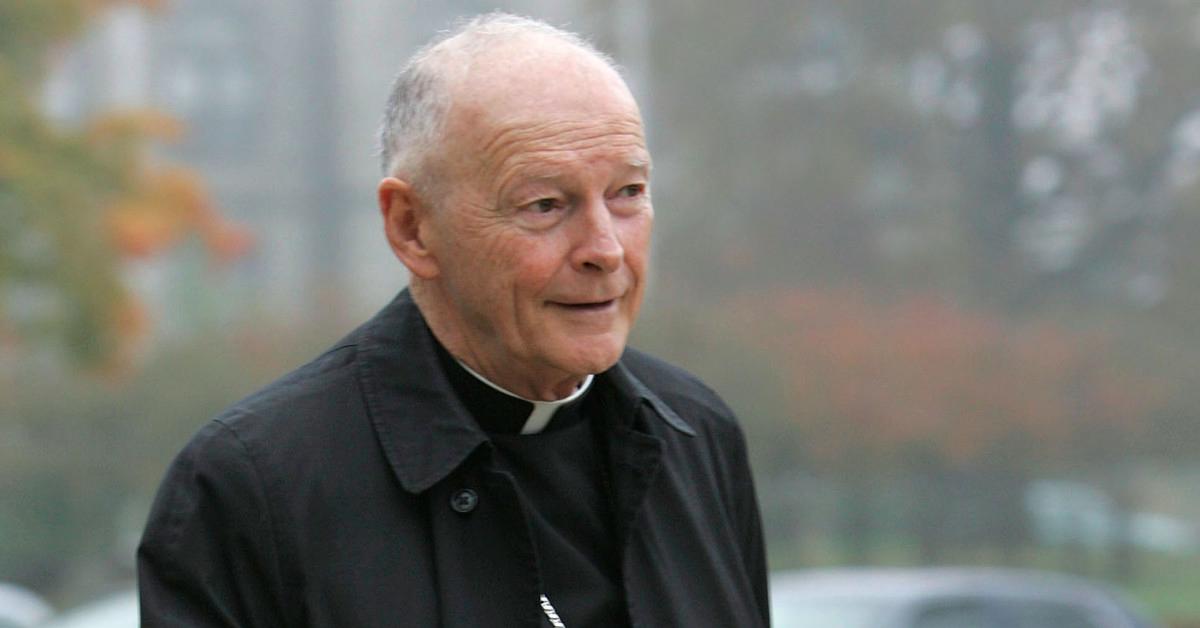 In a complaint filed in July 2021 in Dedham District Court in Massachusetts, former Roman Catholic cardinal Theodore E. McCarrick was charged with sexually assaulting a teenage boy in a case dating back to the 1970s, according to The New York Times. McCarrick had already been expelled by Pope Francis after a Vatican trial found him guilty of sexual abuse of minors and adults.
McCarrick was charged with three counts of indecent assault and battery on a person age 14 or over, and if convicted, he'll face up to five years in prison for each charge, as well as the requirement to register as a sex offender. Mitchell Garabedian, the lawyer representing the accuser, noted that McCarrick is the first U.S. cardinal to be criminally charged with a sexual crime against a minor.
"It takes an enormous amount of courage for a sexual abuse victim to report having been sexually abused to investigators and proceed through the criminal process," Garabedian told the Associated Press via email. "Let the facts be presented, the law applied, and a fair verdict rendered." Barry Coburn, an attorney for McCarrick, said that they "look forward to addressing the case in the courtroom."
The Vatican cleaned a bishop of child abuse charges in Sept. 2021
In Sept. 2021, the Archdiocese of New York announced that a Vatican-authorized investigation had cleared Bishop Nicholas DiMarzio, who leads the Roman Catholic Diocese in Brooklyn, N.Y., of two men's accusations that DiMarzio abused them in Jersey City, N.J., when they were children. The Vatican's doctrinal office found the accusations "not to have the semblance of truth," the archdiocese stated at the time, reports The New York Times.
Despite being cleared by the Vatican, DiMarzio still faced civil lawsuits related to the accusations. "Throughout my more than 50-year ministry as a priest, I have never abused anyone," the bishop said in a statement. "I ask for your prayers as I continue to fight against the lawsuits stemming from these two allegations, and as I now look forward to clearing my name in the New Jersey state courts."
If you need support, call the National Sexual Assault Hotline at 1-800-656-4673 or visit RAINN.org​ to chat online one-on-one with a support specialist at any time.
Complete Article ↪HERE↩!