— Poles divided over John Paul II abuse cover-up claims
Legacy of Karol Wojtyła under scrutiny as Poland comes to terms with scale of sexual abuse in Catholic church
By Shaun Walker and Katarzyna Piasecka
With under six months to go before a parliamentary election that is expected to be closely fought, a surprise figure has entered the Polish political field, despite the fact he died in 2005: Pope John Paul II.
The legacy of John Paul II, who was born Karol Wojtyła and was archbishop of Kraków before becoming pope in 1978, is under scrutiny after a recent book and television documentary accused him of covering up for paedophile priests before he became pontiff.
Poland, historically staunchly Catholic, has slowly been coming to terms with the scale of historical sexual abuse in the church, but until recently the figure of John Paul II, whom many Poles revere for his role in the ending of communist rule in the country, has remained untouchable.
That convention has been upturned by allegations in a documentary aired on Polish television station TVN earlier this year, and a concurrent book by the Dutch journalist Ekke Overbeek, who has lived in Poland for more than two decades and written extensively on child abuse in the Polish church.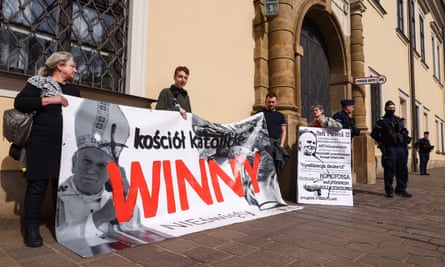 Overbeek said he found documents in the archives of the communist-era security services that prove beyond doubt that the sexual abuse of children by priests was an issue during Wojtyła's tenure as archbishop of Kraków, and that the future pope helped to cover it up.
"It's obvious from the documents that he knew about the abuse. He reacted to it by allowing the priests to continue their ministry. He was very forgiving towards the priests, whereas no evidence shows that he ever gave attention to the victims," said Overbeek, in an interview at a Warsaw cafe.
The response to the allegations has been one of denial and fury. Two public events to promote the book were cancelled by the publishers, citing security fears after a sustained campaign against Overbeek in government media.
In the Polish parliament, the Sejm, MPs from the ruling Law and Justice (PiS) party arrived for a session in March holding photographs of the late pope, and passed a resolution to defend his name.
"The Sejm … strongly condemns the shameful media campaign, based largely on the materials of the communist apparatus of violence, whose object is the Great Pope – Saint John Paul II, the greatest Pole in history," the resolution read.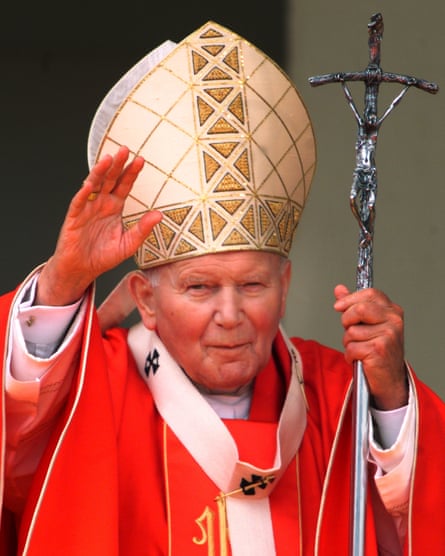 Wojtyła was born in the town of Wadowice in 1920; he was ordained in 1946 and made archbishop of Kraków in the early 1960s. He would become the first non-Italian pope for more than four centuries, and made several visits back to Poland as pontiff. He was widely credited with galvanising opposition to communist rule and continued as pope until his death in 2005.
"I was very upset when I watched the documentary," said Sławomir Abramowski, the 58-year-old priest in charge of a parish named after John Paul II in Bemowo, a neighbourhood of Warsaw. The church was built shortly after the church canonised John Paul II in 2014, and has a portrait of the late pope close to the altar no smaller than the images of Jesus.
The documentary used a "crude manipulation of the facts" to smear John Paul II, said Abramowski, who credited the late pope with inspiring him to join the church in the early 1990s, after he had trained as a doctor.
Among his congregation on a recent Sunday, when the church was full for mass and worshippers listened via speakers in an overflow area outside, there was a mood of defiance.
Kamila, a 38-year-old woman carrying a baby, claimed John Paul II was a "huge opponent of paedophilia" and said the accusations were political. "The aim of this game is to discourage people from going to church, to destroy Polish identity and to repel people from family values."
Barbara, a 70-year-old worshipper, said it was unfair to make accusations against someone who was dead and thus could not defend himself. "The ones who accused him should think about their conscience. I think they might have had problems in their childhood and have been doing this to boost their deficient self-worth," she said.
This strength of feeling helps explain why PiS have seized on the topic, before parliamentary elections in October that are delicately poised. A PiS-led coalition has ruled Poland since 2015, and draws much of its support from a rural, staunchly Catholic electorate.
Mateusz Klinowski, the former mayor of Wojtyła's hometown, Wadowice, and an outspoken critic of the church, said he had no doubt the allegations against John Paul II were true.
"Among educated people, it's been obvious for a long time that he was covering it up, but of course for politicians it's a sweet piece of cake for preparing their campaigns," he said.
Jacek Karnowski, the editor-in-chief of the pro-government Sieci magazine, said he expected the pope's legacy to be one of three key issues the government would focus on in the upcoming election campaign, along with cost of living and the war in Ukraine.
"They know that on the abortion issue, the majority is against them so they stay silent. But 74% of Poles say John Paul II is an authority so this is very fertile ground for the government," he said.
In early April, thousands of people joined marches in Warsaw and other cities to defend the pope's name, including the defence minister and the head of the constitutional court.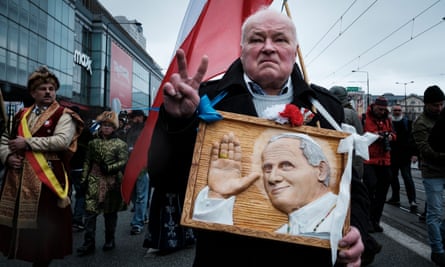 Karnowski claimed the whole scandal had been part of a "political attack" on John Paul II coordinated by the liberal opposition to PiS, but others say that the opposition has been blindsided by the allegations and is trying to stay neutral, aware of how sensitive the issue is. A poll also showed that nearly half of Poles said they would not want to hear allegations against John Paul II even if they were true.
Even the editor-in-chief of Wyborcza, Poland's leading liberal newspaper, has said it would be wrong to discredit the Pope's historical role. "Wojtyła was a child of his time. And what is obvious to us today was not obvious 40 years ago," said Adam Michnik, in an interview published in his own newspaper.
John Paul II's papacy, which lasted more than a quarter of a century, coincided with the first public scandals about sexual abuse in the Catholic church, which have since broken in numerous countries. Often, culprits were simply moved to different parishes rather than banned from practicing or reported to police.
"Ever since these scandals broke, the question has always been 'How much did the pope know?'" said Overbeek. "The answer was in Poland, and now we have the answer. He was aware of this issue from the very beginning."
It is a conclusion that a lot of people in Poland don't want to hear, fearing the accusations could undermine John Paul II's role as part of Polish history and his reputation as one of the key figures in the defeat of communism.
"Poland doesn't have many recent characters we can use as role models. That's why people are so eager to defend him," said Klinowski.
Complete Article ↪HERE↩!