— Survivor names priests who abused him decades ago
Derek McCarthy wants public to know that Spiritan priest with ties to two US cities was one of four men who sexually molested him at Irish boarding school
Some in the US cities of Pittsburgh and New Orleans knew Naos McCool as a Roman Catholic priest who worked with college students and first responders, and also officiated his share of weddings.
But Derek McCarthy wants the public to know that McCool, a Spiritan priest, was one of four men who sexually molested him while attending an Irish boarding school – decades before he secured a six-figure settlement from the cleric's religious order.
McCarthy has spoken openly about his abuse at Rockwell College in Tipperary before, making news headlines across Ireland. But a recent interview with the Guardian marked the first time he has publicly named his abusers, including McCool, who is still living and held relatively prominent roles at some American institutions.
"What if I'm not the only person [who endured this]?" said McCarthy, who now resides in Northampton, Pennsylvania.
McCarthy, 58, also said he wanted to visibly demand an in-person apology from McCool – who is reported to be in an Irish nursing home – and his other still-living abuser, a Spiritan priest named Martin McDonagh.
"After all these years, see me face-to-face," McCarthy said. "So I can look at you and ask you, 'Why?' That's all I want to know – why."
McCarthy's remarks are the first linking figures such as McCool and McDonagh to the Catholic church's long unfolding clerical molestation scandal.
As McCarthy told it in a written complaint submitted to attorneys for the Spiritans, he was sexually abused dozens of times by McCool, McDonagh, the late Spiritan priest Michael Comerford and school chiropodist Dr Jeremiah Lambe while he attended Rockwell as a child in the 1970s.
McCarthy's complaint recounted how he had already been abused by some of the other men when he went to McCool to report them. McCarthy was about 14 at the time and believed McCool – his dean of studies – would protect him.
But, after McCool initially projected a sense of concern, he ordered McCarthy to his office after the boy was late to class one day. There, McCool exposed himself to McCarthy and carried out a sex act.
McCarthy recalls that on dozens of occasions over the next year or, McCool would beat him with a wooden stick and sexually assault him. The abuse unfolded when the school library was unattended or in McCool's private dormitory room.
It all became so overwhelming that McCarthy once threw himself in front of a car near his family's home in hopes that he wouldn't have to go back to school.
Of McCool, McCarthy said: "He is one of the most violent people I've ever met in my life."
'State of decline'
One detail stands prominently out in McCarthy's recollection of his abuse. He said he would sometimes see McCool wearing a New Orleans police department jacket.
A 1978 newspaper article contains a clue as to why McCool would have had such a jacket. The article explains that McCool at the time had been spending more than a month for each of the previous five summers assisting a priest stationed at Our Lady of Guadalupe Church & International Shrine of St Jude, which sits on the edge of New Orleans's French Quarter.
The article notes that the priest with whom McCool collaborated was "the Catholic chaplain for New Orleans police" and firefighters. And it quoted McCool as he described one of the most chilling moments of his duties alongside New Orleans police: discovering a person who had died by suicide.
"He was a handsome 18-year-old boy who took the easy but wrong way out," McCool reportedly said.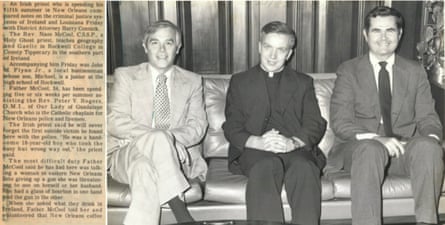 A survey of local newspaper clippings shows McCool maintained his association with Our Lady of Guadalupe and St Judge through 2011. He was listed as an officiant in about a half-dozen weddings in the New Orleans area.
Additionally, McCool worked as the assistant dean for students in the school of education at Duquesne University in Pittsburgh from 2001 to 2015. He was also the chaplain of the university's football team and had a scholarship endowment named after him.
A statement from university officials said McCool also worked as the school chaplain at Vincentian Academy, a Catholic high school in suburban Pittsburgh that closed in 2020.
A Duquesne spokesperson said in a statement that McCool's affiliation with the university ended after he suffered "a serious stroke". As McCarthy understands it, McCool – like McDonagh – has since been living at a nursing home in Dublin.
The Duquesne spokesperson said McCool "presently is in a state of decline that makes it impossible to engage with him meaningfully".
Meanwhile, as is common with people who survive such a traumatizing ordeal, McCarthy remained silent about his abuse for years. The Chicago-born Irishman moved back to the US when he turned 18, joined the American air force and lived as best he could.
He decided to pursue legal action against the Spiritans after a 2018 visit to Ireland with his wife, Mel, stirred the excruciating memories of his abuse. The process that ensued was grueling, requiring him to relive and retell his molestation.
It culminated with an hours-long mediation at Dublin's Four Courts in late July. McCarthy agreed to settle for €100,000 ($105,400) in damages and about €16,000 ($16,862) more to cover legal costs, said documents provided by his lead attorney, Jef McAllister.
McAllister, Time magazine's former London bureau chief, said his side agreed on that figure after his colleague estimated that McCarthy could get about €190,000 ($200,000) by going to trial, which might have dragged the case out another two years or more.
McCarthy – who has also survived a stroke and a bout with cancer – said the amount he accepted afforded him a measure of relief. He invested it into home improvements as well as his retirement.
"It was vindication, you know?" said McCarthy, one of more than 400 survivors who have come forward with abuse allegations against a total of about 80 Spiritan priests, according to the Irish Independent newspaper.
Despite having settled the civil side of his case, McCarthy said he is cooperating with investigators at Ireland's Garda law enforcement agency.
Yet what gratified McCarthy holds as most important about how his decision to speak out about the settlement in Ireland is that it brought him in communication with others who were abused at Spiritan schools.
He hopes identifying McDonagh and McCool in the US media has a similar effect, especially in the case of the latter, given the roles he held in two major American cities.
"It's important that it comes out," said McCarthy, whose home is a drive of only a few hours from Duquesne. "I will do anything in my power to help any victim of this because it's a crime – and [often], it's a hidden crime."
McCool did not respond to an email or a private message on social media seeking comment. The Spiritan order's US province in Pittsburgh did not respond to requests for comment about McCarthy either – but it also did not contest his account.
Neither police nor church officials in New Orleans commented.
Duquesne's spokesperson said the university "presently has no knowledge of … McCool engaging in similar conduct during his time" at the institution. But the spokesperson noted that Duquense has "strong policies and procedures for dealing with allegations of sexual abuse" which can be reported to the university's Title IX office, which investigates complaints of that nature.
"The charges made in Ireland are quite disturbing, and the university has great sympathy for those who have been harmed by people who should be trusted," Duquesne's statement said. "The reporting of such conduct is of great importance … and the university is grateful to those who do make reports."
Complete Article ↪HERE↩!