— Abuse survivors say it's a 'way to silence' them
The insolvency of California dioceses has caused some cases be put on hold, even as a $175m cathedral has risen over Oakland
By Robin Buller
In Oakland, California, the Roman Catholic Cathedral of Christ the Light is difficult to miss. Towering over Lake Merritt in the heart of the city, its modernist glass dome reflects the East Bay sun in all directions.
The building, which was completed in 2008 and financed by the Roman Catholic diocese of Oakland, cost $175m. But that price tag confounds Joseph Piscitelli.
In the 1970s, Piscitelli attended a Catholic high school in nearby Richmond, where, from the age of 14, he experienced repeated sexual abuse at the hands of his vice-principal, an ordained priest. For decades, Piscitelli experienced nightmares and panic attacks. Friends who had also been abused turned to drugs and alcohol, and several took their own lives.
In 2003, Piscitelli sued the Salesian College Preparatory high school and the Salesian order, and won. While the cases were decided in his favor in 2006, they had not held leaders at the top accountable. So, in 2020, he filed a new suit, this time against the Oakland diocese.
Then, to Piscitelli's dismay, the diocese declared bankruptcy in May. As a result, his case was put on an indefinite hold.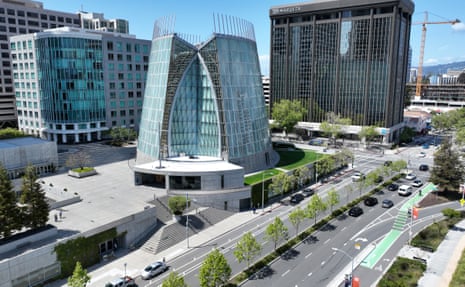 "Oakland could get together enough money to build a $200m cathedral not too long ago, but they can't get the money together to pay the child victims whom they raped for decades," Piscitelli said. "They're morally and ethically bankrupt, but they're not financially bankrupt."
---
One by one, various arms of the Catholic church across California have declared bankruptcy, citing an inability to pay damages from large numbers of sexual abuse lawsuits. The dioceses of Santa Rosa and Oakland filed in the spring. The archdiocese of San Francisco followed suit in August, and the diocese of San Diego has shared its plan to do the same in November. The lawsuits come at a time when Catholicism in California is growing – fueled in large part by immigration from Latin America and Asia – while other parts of the US, including former Catholic hubs in the north-east, are seeing their numbers dwindle.
Church bankruptcy declarations are not unprecedented. From Portland to Milwaukee and from Helena to Rochester, dioceses have been declaring – and emerging from – chapter 11 bankruptcy for nearly two decades. And it isn't only the Catholic church taking these steps. The Boy Scouts of America likewise sought protections amid thousands of sexual abuse allegations in 2020.
The flood of California suits came after 2019 legislation opened a three-year "look-back window" that would allow survivors of childhood sexual abuse to file suits based on old claims that would normally have fallen outside the statute of limitations. When the window closed last December, more than 2,000 individuals around the state had filed cases against the Catholic church; 330 accusers have sued the Oakland diocese alone.
"No one really expected this huge number [of abuse cases] to come in at this last month," said Maureen Day, a sociologist and associate professor of religion and society at the Franciscan School of Theology. "It suddenly became a much larger financial hardship for many dioceses."
But declaring chapter 11 does not mean that the church is broke, said Marie Reilly, professor of law at Penn State University. Rather, it is a legal strategy undertaken by corporations that say they don't have the funds to pay a high number of individual settlements. Known as "reorganization", these bankruptcy protections let the church avoid undertaking dozens, if not hundreds or thousands, of individual costly trials by grouping them into one settlement.
"It will look like more of an administrative process," said Reilly, who specializes in bankruptcy law and also created a database that tracks diocesan bankruptcies.
But the church claims bankruptcy is also fairer to victims, primarily because it means each victim is treated equally and all survivors receive even payouts.
"You see some of the settlements that are out there. You can almost use up all the funds on one or two settlements, and the rest of the survivors that have legitimate concerns get nothing," said Peter Marlow, executive director of communications and media relations for the archdiocese of San Francisco. In 2019, the Los Angeles archdiocese paid $8m to a single abuse survivor. To date, settlements have cost California's Catholic church more than $1b.
"The diocese believes this is the best way to ensure a fair and equitable outcome for all survivors and provide just compensation to the innocent people who were harmed while allowing the diocese to stabilize its finances and continue its sacred mission entrusted to it by Christ and the church," said Helen Osman, director of communications for the diocese of Oakland.
---
To abuse survivors, the proceedings feel like a cop-out. "It's just another way to silence us," says Dan McNevin, who leads the Oakland chapter of the Survivors Network of Those Abused by Priests (Snap) support group.
Unlike trials, bankruptcy proceedings do not involve a discovery process, meaning key pieces of information about what church leaders knew may never be revealed.
McNevin knows how meaningful those revelations can be. As a child, he was an altar boy at his local parish in Fremont, south of Oakland, where he says he was groomed and abused by his priest. In 2003, following California's first look-back window, he brought a suit against the diocese of Oakland, claiming it had knowingly shuffled his abuser from place to place to mask his crimes.
The diocese initially denied those claims, but during the trial, documents unearthed during discovery revealed that Father James Clark had been convicted of sexual abuse years before he arrived in Fremont.
"When we discovered that he had been arrested, my case was made," said McNevin. "It probably helped settle 60 cases." But those cases were settled individually, not collectively, as they would be in bankruptcy proceedings – a critical difference to McNevin.
"They're going to try to slice and dice the survivors into categories," he said. "How do you contemplate making those kinds of stark arbitrary decisions when every human being is different?"
Melanie Sakoda, survivor support coordinator at Snap, says the removal of the discovery process results in victim retraumatization. "What they're really looking for is information," she said. "After waiting all these years before finally getting themselves together enough to come forward and file a lawsuit, it's disappointing. And it makes people angry."
---
For Piscitelli, the suggestion that the church is unable to afford individual lawsuits is especially infuriating. He says those claims come across as disingenuous in light of the vast assets held by California's Catholic organizations, which include properties in some of the country's most expensive real estate markets.
"It's duplicitous at best," said Piscitelli. "It's advantageous for the diocese."
McNevin, who has spent years researching church holdings and tallying diocesan assets, agrees. Using public ownership and title records, McNevin claims to have found that the Oakland bishop as a corporation owns more than 2,000 pieces of land. Some, like churches and schools, are central to the church's mission, and will therefore be excluded from settlement discussions. But others appear to be empty plots of land, rental properties or shopping centers, he says.
"I was stunned," said McNevin, who has shared the appraisals – which Snap says total more than $3bn – with the Oakland bishop, Michael C Barber, and attorneys for the plaintiffs. "They have the assets to pay people whatever is needed," McNevin claimed.
The diocese of Oakland did not respond to requests for clarification about how real estate will play into the proceedings, and would not confirm or deny that the Oakland bishop owns this much real estate, aside from saying that it owned approximately 100 parishes at its peak. Documents from the case state the diocese's real property value is "undetermined" and list Furrer Properties, Inc – a stock corporation that owns and rents properties – as an asset.
The archdiocese of San Francisco flatly denies any accusations of secrecy or obfuscation. "Anyone can have access to the information. It's available on a website that's free of charge," said spokesperson Marlow.
---
Another element the church emphasizes is that declining membership and rising costs, particularly during the pandemic, have squeezed budgets and limited the church's ability to perform its duties. As a result, parishes have been forced to consolidate and close.
Day, the sociologist, says potential church closures are an equity issue, since immigrants comprise a large portion of parishioners. "These are people who are in need of jobs, in need of community," she said. "So we are going to be failing these new migrants as well."
Seeking bankruptcy protections safeguards worshippers, the church says, because it ensures that only the bishop is sued. "The parishes, the schools and the other ministries associated with the archdiocese aren't included," said Marlow.
Yet experts say the proceedings do affect the local Catholic community emotionally and spiritually. "There is a lot of pain and hurt," said Day. Reilly added that in the past, sexual abuse allegations have caused some individuals to leave the church altogether.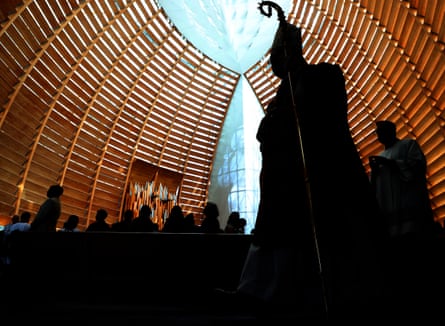 ---
Back in Oakland, Piscitelli finds it impossible to believe that the church's motivations are anything but nefarious.
"As a victim and a survivor, this is an entity that has historically and habitually enabled child rapists for decades. They covered for them, they transferred them, they shuffled them and they enabled them. And now they're stating that they want to provide compassionate and equitable solutions for survivors," he said. "I don't believe it for a second."
Piscitelli said he has heard from a number of fellow survivors who feel the same way. Many of them elected not to file lawsuits for that very reason.
Those who did, however, plan to support one another in fighting against the legitimacy of the bankruptcy ruling in order to have their own individual trials. That's the only way that, Piscitelli says, they can begin to close past wounds.
"It's like looking at scenes on Netflix, but it's real, and you had to live it."
Complete Article ↪HERE↩!