— Gregory Aymond promised 'to be transparent' – but a Guardian investigation found that he hid allegations, and an expert questions whether it was against Vatican policy
A board which helps the Roman Catholic archbishop of New Orleans, Gregory Aymond, evaluate abuse allegations against priests and deacons in six cases found clergymen to be credibly accused only for Aymond to ignore the findings and conceal them from the public, a Guardian investigation has found.
Aymond's management of the cases in question as the leader of the US's second-oldest archdiocese is outlined in a memorandum which attorneys for victims of clerical sexual abuse prepared and handed to law enforcement in the latter part of last year.
It exposes the latest damaging revelations in a decades-long scandal at the 230-year-old archdiocese, which has been shown to have gone to extreme lengths to cover up for a confessed child abuser. The scandal mirrors similar events involving the Catholic church elsewhere in the US and across the world.
The 48-page memo alludes to secret internal archdiocesan records that were handed over after the local church sought federal bankruptcy protection in 2020 in response to a wave of abuse-related lawsuits. Because confidentiality rules guide the bankruptcy, both church officials and advocates for molestation victims have worked to keep the memo hidden from public view.
The Guardian obtained a copy and noted that the administrative actions outlined within the document starkly contradict transparency promises made by the worldwide Catholic church amid the fallout of its ongoing clerical abuse scandal.
Aymond was among those who offered up those promises when – faced with mounting pressure to come clean about clerical molestation in New Orleans – he published the first version of a list of dozens of priests and deacons who were considered by his archdiocese to be credibly accused sex predators.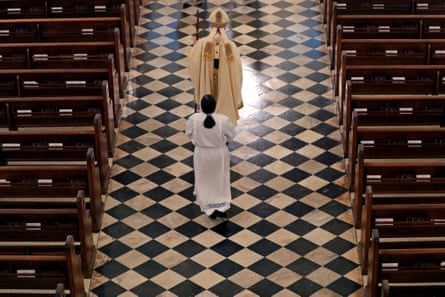 "We have published the names of all those … whom we saw substantiated sexual abuse," Aymond said during a radio interview on the day of the list's publication. "My promise is … to be transparent now and in the future."
Meanwhile, a priest, canon lawyer and vocal critic of the worldwide church, Tom Doyle, said he believes the memo's contents potentially establish violations of the spirit of landmark 2019 legislation from Pope Francis which is aimed at combating sexual abuse in the worldwide Catholic church.
Doyle, a clerical abuse victim advocate, noted that the so-called Vos estis lux mundi – which means "you are the light of the world" – outlines an obligation to report molestation involving both children and adults who are considered vulnerable.
Other measures of the legislation – which the pope permanently decreed earlier this year – also generally eliminate secrecy requirements for witnesses to misconduct while also calling for the protection of people who report alleged church abuse and possible discipline for officials found to have engaged in cover-ups.
"Unfortunately … the bishops say one thing and do another," Doyle said upon learning of the memo's contents. "And one of the things that I've noticed in many years of involvement in this … is the culture of audacity.
"They lie all the time, and they lie to protect themselves … And if that's what's really going on, it needs to be exposed."
With respect to one of the priests mentioned in the memo, William O'Donnell, Aymond authorized separate financial settlements of $125,000 and $100,000 for out-of-court resolutions with two people. Those claimants accused O'Donnell of molestation, and the settlement sums come out to an amount that organizations would probably not pay if they had doubts about the allegations' truthfulness.
Aymond, since becoming New Orleans's archbishop in 2009, also greenlighted a relatively substantial $87,500 payment to privately settle a molestation claim against a seventh priest – Jerry Dabria – before barring the advisory review board from even considering the allegation for potential credibility.
But it has examined hundreds of documents pertaining to two clerical abuse cases cited in the memo – including one of the five which Aymond ignored after the board of advisors found what it considered to be credible allegations of child abuse. And the memo accurately summarized them.
Two of the cases involve priests whose names have never before been publicly linked to the New Orleans church's scandal: O'Donnell and Joseph Benson. Another involves one whose name hasn't been mentioned in connection with the scandal for more than 15 years: Luis Henao, who quietly retired before Aymond's 2018 list release.
The others – Brian Highfill, Paul Hart and Luis Fernandez – have been subjects of media investigations more recently.
Only the late Highfill has ever appeared on Aymond's credibly accused list – which has grown from fewer than 55 named clerics to more than 70 since it was first published – or faced a law enforcement investigation. Even then, Aymond waited more than two years to add him to that roster.
Also, the list published by Aymond has neglected to include three priests whom a predecessor of his reported to a suburban New Orleans district attorney's office for possible criminal prosecution of abuse claims.
During the worldwide Catholic church's decades-long clerical abuse scandal, allegation review boards like the one under Aymond have been criticized as being overly secretive, undermining victims' claims, protecting clergymen's reputations and helping the church avoid having to pay damages, as an Associated Press investigation reported in 2019. But as was seen in New Orleans, even when the board sided with an accuser, it was meaningless if the archbishop refused to endorse the body's recommendation.
Aymond declined to respond to a detailed list of questions provided by the Guardian, saying that doing so "would neither be helpful nor in the spirit of the court's" confidentiality rules.
But he did prepare a statement in which he asserted: "I do not act alone" and "In each instance, I can assure you that decisions were made and actions were taken based upon the information and in consultation with lay professionals and experts as well as church leadership."
Aymond's statement said he pledged to "continue to learn from the past". But he added, among other things, that he was "more focused on the present and the future", especially strengthening protocols for responding to allegations of abuse as well as programs which the archdiocese has said are meant to protect both children and "vulnerable" adults.
Highfill, Hart and Dabria are now dead.
Henao's brother and Fernandez himself confirmed to the Guardian that the archdiocese cut off their retirement benefits after the judge overseeing the organization's bankruptcy ordered the church to stop such payments for clergymen faced with credible accusations of abuse.
Fernandez believes the archdiocese's lead lawyer even told him that his retirement benefits – with the exception of a stipend for medication – were being cut off because the allegations against him were credible.
But Fernandez correctly noted that he has never been put on Aymond's credibly accused list.
Complete Article ↪HERE↩!